Apple Gorgonzola Salad is a simple salad inspired by the restaurant Buca di Beppo. It is a wonderful salad to enjoy!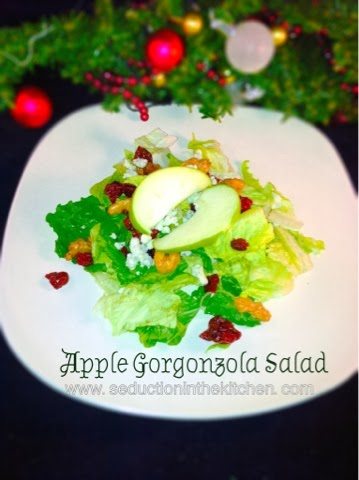 Baking
M
y little kitchen has been going full force with baking. I made so many goodies, and I managed to get photos of some upcoming posts! One is White Chocolate Orange Cranberry Scones, which by the way most of my co-workers really loved.
The only exception that did not like them is the one we dubbed the "troublemaking pot stirrer." Long story but let's just say she lies worse than a rug on the floor, plus she extremely jealous to point that is why she lies. Let's just say she the type no one can be better than her, no matter what it is.
Apple Gorgonzola Salad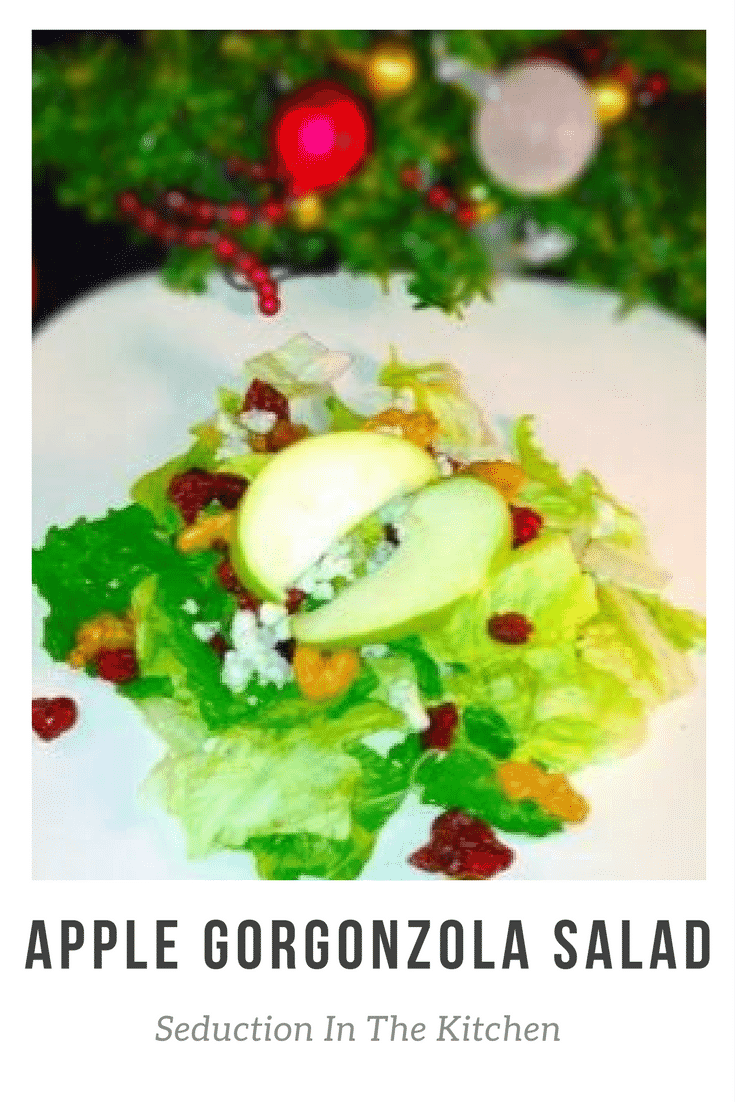 I had my annual Christmas dinner, I always host it at a restaurant. The first Christmas party I hosted was at Buca Di Beppo, 6 years ago. There is a salad there we all fell in love with called Apple Gorgonzola Salad.
Last year I had the Christmas dinner again at Buca and let's just say they messed up huge with my reservation for the pope table. They accidentally gave it to the wrong person who had a similar first name. I had the reservation for 1 1/2 months prior to that night. This person walked in and thought she could get it, her name was Diane. It was a huge mess. So to make up for it Buca did discount my check and gave me a gift certificate to give them another chance.
I ended up treating my father to a dinner there with the certificate. I wanted him to try something other than other than lasagna. I mentioned my family likes food plain. They do not go outside the comfort zone. Salt and pepper are the only spice they know.
Anyway, I got this Apple Gorgonzola Salad. My dad was puzzled. Why? Because to him, a salad is a lettuce, tomato, cucumber and either Italian or ranch dressing that you pour on yourself. This Apple Gorgonzola Salad comes already mixed with dressing, then it got Gorgonzola, apples, cranberries, and walnuts. That a bit outside his comfort zone.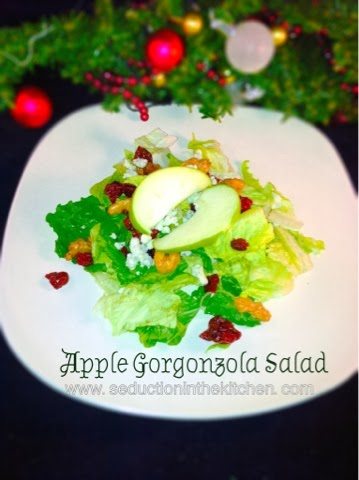 He did try it, well dinner was free due to this certificate, so when it is free he will try it. So he is picking in the bowl eating the apples. I had to tell him it is a salad, try all together.
So finally he does and turned out, he liked the Apple Gorgonzola Salad. But he also admits he really thought the apples the best part of the salad. I was happy I got to try something out of his comfort zone. Why? Because what he order to try for the main meal? Lasagna. Hey, you can not change Rome in a day, right?
Anyway, we talking about the Apple Gorgonzola Salad at work, plus I had a craving for it. I admit I put on a few extra pounds. I did a great job of losing weight, but I put some on. So come the first the year, I'm doing a 21-day challenge. So I figure I get into practice early and make this Apple Gorgonzola Salad. After research online, I found a recipe that is the Buca di Beppo recipe.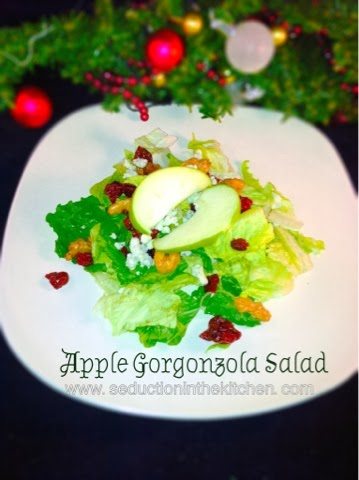 Check out these recipes: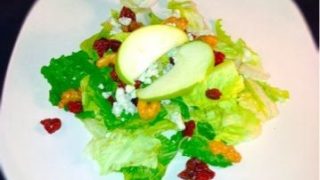 Yield:

4
Apple Gorgonzola Salad
Apple Gorgonzola Salad is a simple salad inspired by the restaurant Buca di Beppo. It is a wonderful salad to enjoy!
Ingredients
1 granny smith apple (chopped and sliced for garnish)
8 oz romaine lettuce washed and chopped
2 Tb Gorgonzola cheese crumbled
2 oz spiced walnuts
1/4 cup dried cranberries
1/3 cup white wine vinegar
3/4 tsp dried oregano
1/2 tsp dry mustard
1 tsp salt
1 pinch black pepper
1/8 cup red onion chopped fine
1 1/2 tsp garlic minced
3/4 cup olive oil
1 tsp sugar
2 cups walnuts halves and pieces
1/2 cup sugar
1 tsp cinnamon
1/2 tsp allspice
Instructions
Bring a pot of water to a boil. Add the walnuts and let them boil for about 5 minutes.
In a ziploc bag add the sugar and spices. Give a good toss to mix it all together. Add the walnuts and toss them in the bag till the walnuts have a coating if the spice mixture.
Heat up about 2 Tb of oil. Add the walnuts and caramelized the walnuts about 2 minutes. Drain them and set aside.
Put everything for the vinaigrette but the oil in a blender. Turn it on to blend and slowly add the oil to it as it blends. Once all blended you see it a nice thick dressing. In a bowl add the lettuce and toss it with the dressing.
Assemble the salad, add the cranberries, walnuts and Gorganzola. Then top it with the apples. Serve it up and ENJOY!
Nutrition Information:
Amount Per Serving:
Calories:

715
Total Fat:

62g
Saturated Fat:

9g
Trans Fat:

0g
Cholesterol:

6mg
Sodium:

451mg
Carbohydrates:

40g
Fiber:

4g
Sugar:

33g
Protein:

7g
This post was most recently updated
I want to hear what you have to say about this recipe that is on
SEDUCTION IN THE KITCHEN!
Let's get this conversation started! What do you think of this recipe?