The Apple Dumpling Shot is a fun girly drink that is perfect for beating the winter blues and having a girl's night in! Made with Sorel from Jack from Brooklyn.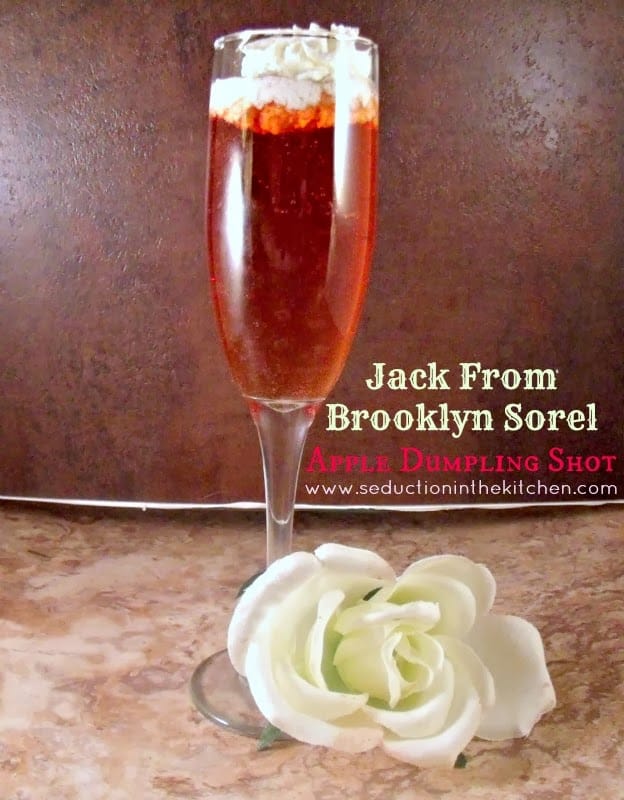 Girly Drinks
G
irls love sweet drinks, and if it tastes like a dessert it is even better. These are also called "girly drinks." Women do not want hard drinks we like the light fruity ones that we can drink over and over. However, doing that we also tend to get tipsy more easily. None the less, girls love the fruity dessert type of drinks.
I teamed up with Jack From Brooklyn to create some great recipes for the Girl's Night In series. They have a wonderful product called Sorel. What is Jack From Brooklyn? Here is a little bit about this distillery from their website:
Eendraght Maeckt Maght.
Translated from the original Dutch, it means "Unity Makes Strength". It's the official Brooklyn motto, and the underlying motif beneath everything we do at Jack From Brooklyn. The power of community. The belief that we are stronger together than we are apart.

Still the fourth largest city in America, Brooklyn has always been a place where diverse cultures intermingle. From the first Dutch settlers almost 400 years ago right up until today, it's a place where creativity and tenacity combine to create industry. From the original Brooklyn Navy Yard established in 1801, to the burgeoning fraternity of specialty craft food creators today, Brooklynites are notorious for pride taken in things we make with our hands.

It is in this grand tradition that Jack From Brooklyn is proud to offer unique artisanal alcoholic beverages. Hand-crafted in small batches, we combine all natural spices, pure cane sugar and the finest 100% organic New York grain alcohol. The resultant libations offer a unique aromatic profile and a distinctive flavor, creating vast new options for both consumer and mixologist.
The Apple Dumpling Shot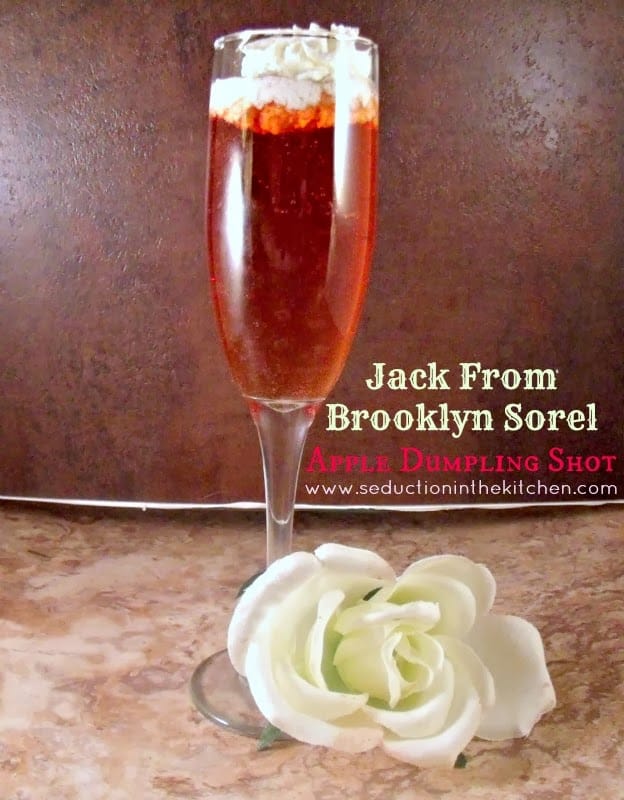 Unique artisanal is what we have with Sorel! One taste and I could taste this spicy undertone of this liquor. The Apple Dumpling Shot shot came to my mind when I took a sip of this nectar.
Combine apple juice with the sorrel, it was defiantly a girly drink. It is like tasting a The Apple Dumpling but in an adult beverage form. Trust me you want to have a few of these babies!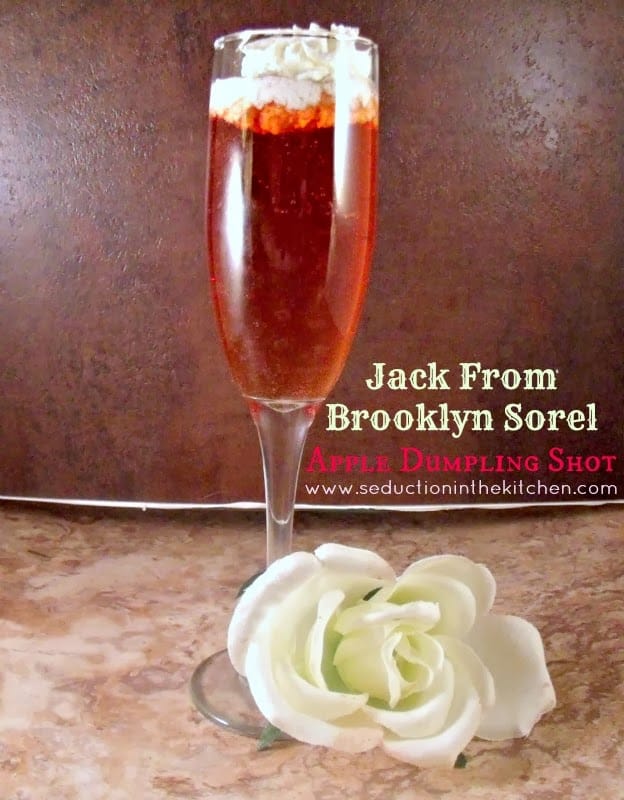 Check out these recipes: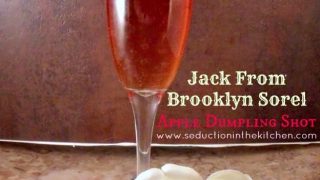 Yield:

1
Jack From Brooklyn Sorel Apple Dumpling Shot Recipe
A fun girly drink that is perfect for beating the winter blues and having a girl's night in! Made with Sorel from Jack from Brooklyn, a recipe from Seduction in the Kitchen.
Ingredients
3 ounces apple juice
1 ounce of Jack From Brooklyn's Sorel
whipped cream
Instructions
Pour the apple juice into the glass
Layer the Sorel on top the apple juice
Then top it off with some whipped cream and ENJOY!
Nutrition Information:
Amount Per Serving:
Calories:

39
Total Fat:

0g
Saturated Fat:

0g
Trans Fat:

0g
Cholesterol:

0mg
Sodium:

3mg
Carbohydrates:

10g
Fiber:

0g
Sugar:

8g
Protein:

0g
Check out my the latest on my other blog:
I want to hear what you have to say about this recipe that is on
SEDUCTION IN THE KITCHEN!
Let's get this conversation started! What do you think of this recipe?